Additional Resources

Many adults spend their entire lives covering their mouths when they laugh, smile or talk. They feel stuck because they do not want to wear metal braces for years or they are concerned that other corrective procedures could be too invasive or too expensive. Now, there is an effective, safe and affordable cosmetic solution that fits your lifestyle. Using a revolutionary combination of proven orthodontic techniques, modern materials, and innovative thought, Six Month Smiles® utilizes specialized clear braces to gently straighten and align teeth in an average time of six months.
---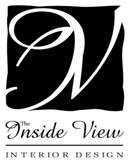 The Inside View, LLC is a locally based interior design company. We tailor our design work to you, your staff, and your clients. Whether you are currently thinking about renovating or relocating your practice, our designers can help you to create a welcoming environment and a better work flow. We consult on projects large or small, from a paint consultation to ground-up construction.
We offer an initial design consultation package which includes meeting you and your staff, understanding your project and building upon that information to create design solutions for your office. We also provide additional project oversight on an as-needed basis depending on the size and scope of your project. These services include, but are not limited to: Bid packages, contractor interface and site meetings.
Please visit our website at: www.theinsideview.net to view completed projects. Call 978-373-1800 or email theinsideview@verizon.net today for further information or to schedule an appointment.
---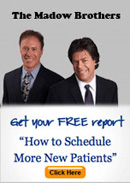 If you are not familiar with my very good friends Dr. David Madow and Dr. Richard Madow, I would like to introduce them to you here. They are the co-founders of The Madow Group, a totally unique company that specializes in helping dental practices across North America learn how to be more successful. They do so many great things to help dentists and team members, it would be difficult to list them all. To get to know Rich and Dave, they are offering all Jodena friends a free "Special Report" entitled "How to Schedule More New Patients." So feel free to click on the link to get yours!
---

When Mayer Levitt approached TNT Dental for his website needs over four years ago, neither he nor TNT anticipated the relationship that would flourish. Together, Mayer Levitt and TNT Dental have helped numerous dental practices achieve a competitive online presence. From creating custom websites from scratch to rescuing current websites and streamlining their marketing strategy, the experts at TNT Dental provide a wide range of services that deliver proven results. With over 40 years of combined dental-practice marketing experience, TNT Dental and Jodena Consulting can take your practice to the next level! Contact Tim Kelley, TNT co-founder and dental website authority, for a free website analysis and to learn how a Mayer-Levitt-approved website and custom blog integrated into your current website can improve your online-marketing success.
www.tntdental.com | timk@tntdental.com | (877) 868-4932 ext. 101
---
Broadly helps dental practices generate great patient feedback on the platforms that matter most to prospective patients. Our smart technology prompts happy patients to provide their practice reviews on Google, Facebook, and other popular review platforms with one click. We also enable practices to gather feedback from unsatisfied patients privately and offline. Our patent-pending technology streams great client testimonials to your website, delivering a powerful SEO boost. To schedule a personalized and free consultation of your practice's online presence.
contact@broadly.com | 800.693.1089
---

Dental Technology Consultants. As many of our clients struggle with the myriad of decisions when it comes to technology, I wanted to recommend the services of Dr. Lorne Lavine and Dental Technology Consultants. Lorne is considered one of the world's leading experts when it comes to dental technology and has worked with over 1700 dental practices across North America. He's an internationally recognized speaker and moderates all of the technology forums on the DentalTown.com website. Lorne will work individually with a practice to evaluate their current systems, and help them to develop a customized "treatment plan" of how to add what technology and when.
drlavine@thedigitaldentist.com | 866.204.3398 X 200
---

RevenueWell is patient communication software that helps dental practices build stronger, more connected relationships with their patients and their communities. This online, easy-to-use tool helps attract new patients to the practice, improve existing patient relationships, and give front desk teams more time to do their best work.

For more information visit: http://try.revenuewell.com/jodena-consulting/
friends@revenuewell.com | 510-306-2800
---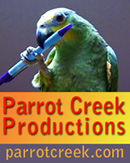 Parrot Creek Productions. During the past several years web video has become an essential component in any comprehensive marketing plan. But producing high quality, compelling video such as patient testimonials is not as simple as pushing the button on a point-and-shoot camera.
"Web video standards have been raised now by the proliferation of streaming high definition movies, and visitors to your web site expect no less," says George Packard, owner of Parrot Creek Productions, a video production house serving the New England area. "We film a two-minute patient testimonial with the same attention to editing, lighting, sound, and camera angles that we bring to a full length movie. And because we are a small, independent operation, we can produce top quality work at very modest cost." For the past ten years, Packard has been producing documentary movies, DVDs, and a wide range of video work. Recently he and his wife Joan have begun creating patient testimonial web video for dental practices, a specialty which they particularly enjoy.
Contact: tel. 603-456-2286
george@parrotcreek.com
parrotcreek.com
---

Unique Services is a construction and remodeling company specializing in the unique building and engineering requirements that dental offices demand. Established by George Morrison, Sr. in 1976, we work directly with you from start to finish ensuring that everything works perfectly and shows beautifully. Talk to our customers and you'll find we have earned a reputation for high quality construction, meticulous attention to detail, and integrity without equal. In fact we guarantee our workmanship because our reputation is so important to us.
uniqueservices@comcast.net | 508.543.2732