November 20, 2017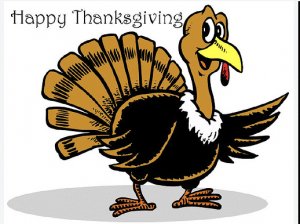 Thanksgiving is far and away my best day of the year. Family, friends, great food and drink, and plenty of football. What could be better? The older I get, the more appreciative I am for all of my many blessings.
We, as most families have, for many years, continued a tradition of having everyone around the table articulate what they are most thankful for. It was always interesting to hear the comments, especially from the kids. "I am grateful for my family even though I sometimes fight with my sister". "I am grateful that we can all be here today together to celebrate." "I am grateful that I don't have to go to school until Monday!"
How times have changed. Now we are grateful for:
• A month without a mass shooting.
• A week without an act of terrorism being perpetrated on innocent civilians.
• A day without political partisanship and the spewings of the extremists on both the left and the right.
• A day without another exposé of sexual harassment that is so demeaning.
• A day without the politicization of sports.
• A day when I can actually get back to being able to believe as truth what I read in the newspaper or see on TV.
Next Thursday my plan is to take a complete break from email and social media. I will turn off the computer and my iPhone. I will decompress and enjoy the day and the company.
America is still the greatest country on Earth. The eternal optimist in me believes that normalcy and respect and goodness to others will return. And for that we will happily give thanks.
Comments Off

on A Thanksgiving Message
No Comments
No comments yet.
RSS feed for comments on this post.
Sorry, the comment form is closed at this time.