October 10, 2017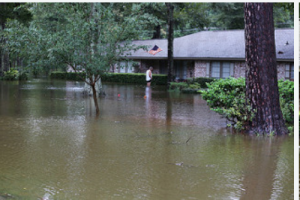 I sincerely hope that you personally were not adversely affected in the aftermath of hurricanes Harvey, Irma, and Marie. But if nothing else, by watching and reading about these weather events and the incredible devastation that they caused, I trust you have become super motivated to examine your own disaster coverage. Here is some information to help get you started.
1. Business Income or Business Interruption Insurance – This coverage provides cash relief as a result of any disaster that prevents your office from being open to see patients. After a minimum 24 hour waiting period, you will receive a daily dollar amount based on historical income and expense information that was provided at the time the policy was issued. The duration of the coverage is usually from one month to a maximum of six months. So based on the size of the practice, you could receive $1000, $5000, or $10,000/day – whatever is representative of past revenue. These plans always have a deductible, a specific dollar amount, and a fixed time period of coverage. The annual cost of the policy is priced accordingly.
2.Business Overhead Insurance – this is NOT natural disaster related, and should not be confused with such. This coverage provides income to cover fixed office overhead costs like staff, rent, loan payments, etc. in the event that the doctor is injured or sick and cannot practice. There are various waiting periods before coverage kicks in – and the policies are priced accordingly.
3. Business Personal Property Insurance – this coverage is for the costs to repair an office or office contents that are damaged by fire, wind, hurricane, and water damage from plumbing. Some policies have a small allowance for flood damage, but flood damage policies usually have to be purchased separately.
4. Flood Insurance – These policies are tricky. Flood as an insurance peril can complicate a business continuity plan. You have to be careful about the definition. We have all just witnessed the worst possible demonstration of why it is important to know and understand your flood risk and how your coverage operates following a disaster. Pricing is determined by where you live and how much you want in coverage.
5. "Civil Authority" Insurance – another kind of disaster coverage that is relatively new can be purchased as an adjunct to the business interruption insurance that I mentioned in item 1. This type of plan provides financial relief to you even if your physical space was not damaged but the surrounding community was. For example, in the recent Houston area incident,  even if you were fortunate that your physical dental office was not damaged, there was so much flooding and power loss around you that patients could not travel to your office.
6. Although it is not an insurance product per se, you would be totally unprepared and out of touch with reality if you are not currently backing up computer data to an off-site server or to the Cloud.
In my next post, I plan to offer some concrete recommendations on how to go about purchasing the proper disaster insurance coverage.
Comments Off

on Just Be Sure That Help Is There When You Need It
No Comments
No comments yet.
RSS feed for comments on this post.
Sorry, the comment form is closed at this time.