November 6, 2017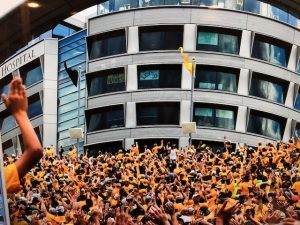 This past Labor Day Weekend, my wife and I had the opportunity to travel to Iowa City to spend time with two of our grandchildren. Daniel is a junior and Samantha a freshman at the University of Iowa. One of the many highlights of our visit was to attend a Big Ten football game. 68,000 raucous and loyal Hawkeyes fans – standing room only – you truly had to be there to believe the scene!
Directly adjacent to the Stadium is the brand new University of Iowa Stead Family Children's Hospital. High over the stadium on the hospital's 12th floor – with a wraparound birds-eye view of the field – patients and families and caregivers gather to watch the game. But on this day, something special happened for the very first time. At the end of the first quarter, prompted by the public address announcer, the huge crowd rose as one, turned to look up at the kids, and for a long sustained moment, waved at them. It was electric, exciting, and so emotional to be there!
I had forgotten about that experience until I read this past Friday's USA TODAY. There is a fabulous article about The Wave and how it has now become a weekly tradition at Kinnick Stadium. The article features the story of a young boy, born with a serious heart defect, who at the age of six, finally received a heart transplant. As of this date, he has been in the hospital for almost 300 days. His mom has not left his side the entire time, sleeping on a pullout cart in his room. His dad, who ironically is a football coach in  a community one hour away, comes on weekends and when he can during the week. Do yourself a favor and read this article – it will bring tears to your eyes.
The United States in 2017 has had more than its fair share of tragedies: hurricanes in Texas, Florida, and Puerto Rico; wildfires in California; a mass shooting at a concert in Las Vegas; and a terrorist attack on a bike path in lower Manhattan. I thought it would be refreshing to finally focus for a moment on a beautiful story of courage and hope and the transformative healing effects of a crowd of people at a football game.
No Comments
No comments yet.
RSS feed for comments on this post.
Sorry, the comment form is closed at this time.